Power Studio version 1.16.1
Tue, 09 Oct
A new version of Power Studio has been released. This version includes a huge list of new features and improvements, including forced live breaks, retries and reconnects on web streams, library import for Zenlex databases, improved performance and stability and more... It is highly recommended all Power Studio users upgrade to version 1.16.1., which can be found on the download-page.
This new release contains the following new features: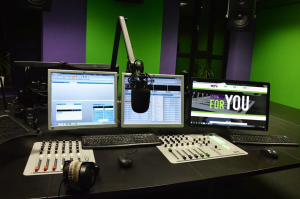 Playout
Added setting to automatically switch to automation mode and start the news/fillout items when in live mode and the next playlist does not have floating start enabled. The "Force playlist breaks in live mode"-setting can be enabled on a per-machine basis.
This functionality also works in multi-studio mode.
Tracks Browser
Added a "Add single track" button, to add single track to the database (note that Batch Add is still the recommended way to add tracks to the database!) Also the select file button on the Track Edit screen has been implemented.
The PFL-function can now be activated using the space bar (just like in the Mix Editor). Of course CTRL+P also still works. When PFL is playing in Tracks Browser and Playlis and another track is selected (with cursor keyse of mouse), that track is played in PFL.
The Tracks Browser can now also filter on Content Type.
Clearing the searchbox using the delete-button, now no longer attemps to delete the selected track.
Carts Player
Added the ability to remove jingles from the Carts Player list.
Web Streams
Added retry and reconnect functionality to the playout of Web Streams.
When an invalid or disabled Web Stream is started, the players are no longer blocked. Silence is played instead.
Library Import
The Library Import tool now supports importing Zenlex databases.
Playout Engine
Upgraded the BASS audio engine to the latest version. Power Studio now favors WASAPI drivers over WDM drivers (when available) for playout. An issue that sometimes occured when dropping files into a playlist as well as a specific deadlock situation has been fixed.
Improvements & Bug fixes
The Item Download plugin now has file selection dialogs for local/network file settings.
Added improved logging for failed WDM audio drivers