Power Studio version 1.19
Sun, 28 Nov
A new version of Power Studio has been released. This version includes a huge list of new features and improvements, including jingle inserts to the Mix Editor, files can now also be dragged in the carts, fallback functionality for the Item Download Plugin and and more... It is highly recommended all Power Studio users upgrade to version 1.19.1., which can be found on the download-page.
This new release contains the following new features: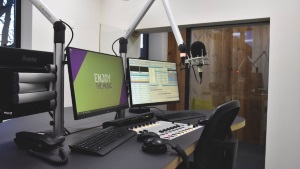 Mix editor
Added insert functionality. Normally tracks or jingles should "link up". Items can now be dragged out of this normal flow, in insert mode. In this mode the item can be placed freely on top of an underlying track.
In Automation Mode these inserts are automatically played as inserts. In Live Assist mode, the inserts should be linked to the underlying track to be played as insert.
Recordings are now made through the more modern WASAPI drivers, with a fallback to the legacy Directsound driver, if no WASAPI driver is available.
Carts
It is now possible to drag files into the Cart Players, from Windows Explorer.
Players
Added the time-mode "Time remaining for individual linked items", which causes the different linked items to be counted down individually while the bar displays the position in the linked set (and counts down the intros...)
Item Download Plugin
Added the "Fallback on error"-setting to Source-page. When this setting is enabled, the last successful download is cached. In case of an error downloading the next item, this cached download is reused, to prevent the Macro just being removed from the playlist.
Rest API
Tracks can now be created/updated from the API.
We also added a function to make it more easy to add new lines to a playlist.
We fixed a number of typos and made it possible to look up the application version through the API.
SwaggerUI is now embedded in the application to prevent security issues with increasing security demands in Chrome.
D&R Airlite plugin
Each channel of the D&R Airlite mixer can now be assigned to any player or cart (in pre-select mode). It is now also possible to choose to use button- or fader-start. (just like in the D&R Airence plugin)
Improvements & Bug fixes
A message is now shown when the application version is out-of-sync with the database
Added a check for application updates
Fixed defect in calculating the start times in the playlist
Updated BASS-audio engine to the most recent version